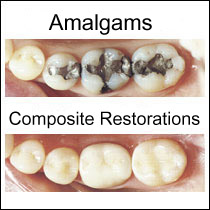 We are often asked if we do those mercury fillings.  The answer is Yes and No.
When I attended dental school back in the 20th century,  I received the best dental education at the University of Nebraska Medical Center College of Dentistry.  It was a grueling 4 years, but well worth the effort.  We learned about the materials and procedures available at the time.   It was the most up to date information that was available.
Since then, I have attended hundreds of hours of continuing education.  It has taught me the latest information.  Back in the late 1980's and early 1990's  I performed a lot of silver fillings, called amalgams.  They are durable, and are a decent replacement for missing parts of teeth.  They have been the standard of care of over one hundred years.  Countless research studies have proven their safety and effectiveness.  They do not bond to the tooth and can, over time, begin to leak.  Another drawback is their obvious lack of beauty.
As dental filling materials have evolved, the white, composite resin has become the material of choice of many dentists. They have become more durable, and the materials used to bond it to the tooth have improved as well.  In the past, it was difficult to assure the contact between the filling and the next tooth would be tight enough to keep food from wedging next to the filling.  This food "impaction" was the cause of failed fillings and bleeding, infected gums.  The arrival of amazing tools have helped alleviate this problem!
These tooth-colored fillings require a dry working area to assure proper bonding to the tooth.  Sometimes  achieving the necessary dryness  is impossible, and I am resigned to use the older silver filling material.  This might occur if  the decay goes way below the gum line and dryness is impossible.  I prefer to use the white materials due to their beauty and durability, but will use other materials as the situation dictates.
When you seek dental treatment from Albert Mendez DDS PA, Pittsburg Kansas Dentist, you can rest assured that the materials  and techniques used are the most up to date.  Dr Mendez and his amazing team will do all they can to treat you with respect and in a fun, yet professional environment.  Call us today at  (620) 231-6070 to set an appointment or check us out online on Facebook (PittsburgDDS).
So do I do those silver filling? Yes and No! It all depends on your unique situation.