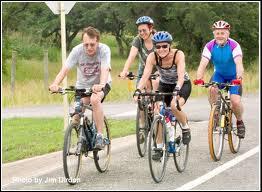 It was an absolutely beautiful morning this morning.  Low sixties.  Light wind.  A beautiful sunrise.  Were you up early enough to enjoy it too?  It was amazing!!  My alarm woke me at 5:10 (the usual time), I got dressed in my shorts and t-shirt.  I donned my reflective vest, and popped in my tunes.  I set off on a 14 mile ride.  I really enjoy my bicycle rides.  It is an amazing time to reflect and relax.  This morning I was on a great pace.  It would not win me any medals in a bike race, but it was encouraging.
I was thinking about life and this blog.  I usually come up with my topics while running, walking or riding. This morning I was thinking about service.  A quick dictionary review revealed no less than 37 definitions of the word service. Thirty seven!
About a month ago a major tornado cut through the center of Joplin, MO.  To date, 156 people have perished as a direct result of that storm.  My family and I have traveled the thirty miles to that city to provide service to the victims.  We helped on the night of the storm, and have gone back many times since.  Our service was done out of love and concern for our fellow man.  (Definition 1- an act of helpful activity; help; aid: to do someone a service. )  Hundreds of thousands of hours have been put in by many volunteers.  On behalf of the people of Joplin, I want to say thank you!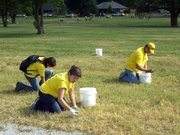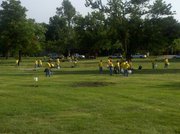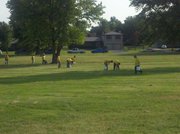 My second son is attending dental school at the University of Nebraska Medical Center College of Dentistry. (That just happens to be my Alma Mater!) He is attending school on a military scholarship.  After school is over, he will commit 8 years to serving our country in the Army. (Definition 11- Military.  the armed forces: in the service.)  The men and women who serve our country are amazing, thank you for your sacrifice to keep us safe here at home and abroad!
As a dentist, I have the privilege of providing care to a wonderful family of patients.  My team and I love what we do to help others obtain and maintain beautiful, healthy smiles.   Some come to us in bad shape and we do all we can to help them.  Others come with no problems and we work with them to keep it that way.  Some patients are easy going, while others can be a challenge.  This is one of the things that make my life exciting! (Definition 13- the performances of any duties or work for another; helpful or professional activity: medical services.)
Recently, my youngest son fulfilled requirements to do missionary work for our church and he was assigned to serve in the Nevada Las Vegas West Mission of the Church of Jesus Christ of Latter-Day Saints.  He is excited to serve God and the people of that area.  It will be two years away from home, but he looks forward to serving. (Definition 17- the serving of God by obedience, piety, etc.: voluntary service.)
Now back to my biking story.  I got out about 6 miles from home when I detected a change in my ride.  Oh no, not another flat tire! This is my fourth flat this riding season.  Fortunately a police officer had just stopped a speeding car.  I flagged the officer down and used his phone to call home for a ride.  The speeder was probably upset to be stopped, but I was grateful an officer was there when I needed him. (Definition 9- the duty or work of public servants.)
We are here to serve each other.  It can give us satisfaction.  It helps us have empathy for others.
If we, at Albert Mendez DDS PA, Pittsburg Kansas Dentist, can be of service to you in a dental capacity, please feel free  to call us at (620) 231-6070.  Check out our website or friend us on facebook @PittsburgDDS.  Go out and serve.