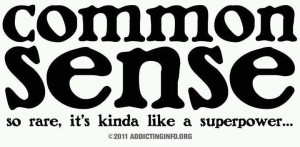 Recently, a friend posted this picture on Facebook.  My first thought was "ain't that the truth." Then I started wondering if I was a person with super powers!
This morning I arrived at the office and announced to my team that I am a superhero with super powers!  After the blank stares and giggles, I told them a story to substantiate my claim.  Yesterday we received an inch of snow.  Fortunately, as the day went on the temperatures rose, and by nightfall most of the white stuff was gone!
This morning, the temperatures were around freezing with the forecast calling for high in the mid 40's!!  In my book, that is prime winter motorcycle weather! I set off for work on the Harley! Less than a block from my house I realized something was wrong.  My Heritage was not handling right.  Was it a flat tire?  I stopped to check and realized the road was a bit on the icy side. I cautiously rode home and traded my bike for my truck. I was disappointed, but figured I would go home at lunch and trade back!
On my way to the office (in my truck),  I was driving in the inside lane with an SUV driving on the outside lane.  I was about 2- 3 car lengths behind when it happened! Obviously hitting a slick spot in the road, that SUV swerved to the right, then to the left then to the right and hit the curb. It then spun around into the opposite lane of traffic, and backed into a telephone pole.  I carefully slowed down and avoided all the flying debris from the bumper and tailgate! After assuring all was  fine and seeing another driver stopping to help, I proceeded to the office.
Had I tried to get to the office on my bike, I may have had a similar experience as the SUV.  Without a steel cage around me, my fate may have been much worse.  After all, cars drivers have bumpers and motorcycle riders have bones!! I am glad common sense prevailed!! Now this  afternoon, I may still get my Harley, if the conditions are right!!
Today, I want to encourage you to be a super hero with super powers when it comes to your health.  Use common sense and seek preventative care.  That includes seeing your dentist regularly.  If you don't have one, Albert Mendez DDS PA, Pittsburg Kansas Dentist, would love to help you out!  Call us today at (620) 231-6070.  If you want more information, check us out online at www.pittsburgkansasdentist.com.  Remember to check us out and like us on Facebook at www.facebook.com/PittsburgDDS.
May the force be with you!!