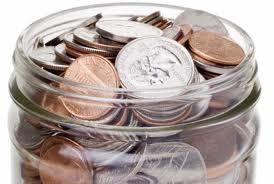 Back in the 80's, music was music!!  Ah, that awesome synthesized sound!  There was a group named Calloway that sang the song entitled, "I Wanna Be Rich."  For the so-called Decade of Greed, it was a typical song.  For those too young to remember the song, the singer laments the fact he has bill collector problems and feels that lots of cold, hard cash will solve that and a bunch of relationship problems!  In the grand scheme of things, the song was lame, but had a good beat!
As I have matured (insert chuckle here), I have learned some important life lessons.  One of them is, unless you know the person REALLY well,  it is wise to never discuss religion, politics or money!  These are real "hot button" topics that can turn on you real fast!  Since we know each other, I will broach the subject of money!.  Actually, what I am about to say is NOT what you think!
As you recall, a short time ago, I wrote here about the top three concerns dental patients have.  You can re-read that post here, if you need a refresher.  In that post, I discussed the first concern, time.   Today, I want to briefly cover the second area of concern, cost.
You probably have heard the saying, "you get what you pay for."  You have also probably had situations where you paid a little more but did not get the value or treatment you thought you should have received.  This has happened to me too.  Preventive dental care should be looked at as an investment rather than an expense.  If you are like me there are times you  don't fully appreciate something until it is too late.  Don't let your good health be one of those "things that got away"!
Here in the heartland we have the advantage of a lower cost of living.  That advantage holds true in our office too.  We are constantly aware of the cost of supplies and sundries.  We work hard to keep our overhead expenses low.  We do not cut corners on the quality of the materials we use.  They are some of the best available.  I grew up in a home where mom stayed at home and dad worked A LOT at the steel mill.  My parents taught me the value of hard work and the value of the dollar!  We strive hard to be sure your dental care is provided economically and  the best possible way.
If you know you have dental needs and have any questions about receiving treatment economically and getting it to fit in your budget, please feel free to call our office at (620) 231-6070.  If you would like to get to know us better, feel free to "Like" us on Facebook (PittsburgDDS) and check out the rest of our website at www.pittsburgkansasdentist.com.